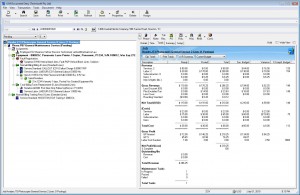 Service Manager by Technisoft Pty Ltd, a Sage Endorsed Solution
Service Manager is a multi-award-winning software solution for Service, Job Cost, and Maintenance industries. Service Manager is fully-integrated to the Sage 300 ERP ERP accounting suite, providing true accountability from a central point to help you manage the resources, products, and services your business offers.
Communicate with your employees or customers from anywhere day or night using wireless PDA, mobile/cell phone or Notebook technologies or via the Internet in order to save time, lower expenses, monitor profitability, increase productivity and most importantly, improve customer service and satisfaction.
Service Manager will accommodate your work flow today and can be easily tailored to grow with your business into the future.
Whether for your own internal operations, or for commercial operations, if you are involved in contracting, job cost management, preventative maintenance or general equipment servicing, then your business can benefit by deploying a Service Manager solution.
For more than twenty-one (21) years Technisoft has been committed to exceeding our customers' expectations and adding value to the communities we deal with.
Service Manager Highlights
Create and manage templates; quotations; jobs; projects; invoices; credit notes; cost-only entries; requisitions; purchases; receipts; and issue parts/stock; labor and other services; and track budgets and profitability. Includes multi-currency and Service Center/Branch accounting.
Schedule jobs, employees/contractors, tasks, equipment, and other resources. View workloads, plan ahead, allocate and reschedule resources, record time entries, and manage conflicts.
Preventative maintenance functions allow you to create task and service activities based on conditions, meter values, and schedules. Assign resources, take measurements/meter readings, and predict maintenance loading and material requirements.
Tracking of serialized inventory and equipment (includes equipment transfers, warranty, RMAs, symptoms, faults and solutions, rentals, returns/ exchange rotations, history, life-cycle profitability).
Create service/site-level agreements, warranty and meter agreements, including preventative maintenance to monitor and support your customers with definable response prioritization, parts/service cover, profit reports, and warnings.
Employees can modify and create jobs via the internet using the Employee Portal or let your customers save you time and money by logging jobs and viewing information via the Customer Portal in a self service process.
PDA and Notebook field solutions fully integrate online (real time) or offline (full sync up process) allowing employees to stay in touch with the office and update jobs and tasks as they are received and the work is completed.